Leave a Comment
12 Thanksgiving Tips for More Joy and Less Stress
TIPS from the Fabulous Dorothy, the Organizer!
1. Clean house one day before Thanksgiving and set your table.
2. Select soft music and comfy clothes to set the tune for the day; rise early to prepare your bird or whatever you intend to serve.
3. Prepare dressing, casseroles, gravy, vegetables, cakes and pies one week before Thanksgiving, and then put in freezer.
4. Pull everything out of the freezer Thanksgiving morning to defrost; microwave or bake everything before dinner; please time yourself
5. For decorating, try simple things: a glass bowl of lemons will look attractive; so will a cluster of grapes in a lovely bowl; small bunches of rosemary interspersed with peppercorns which grow on many trees in this part of the country. This will make a lovely table décor including candles.
6. Invite family members and friends to help. They will enjoy it and make your day a memorable one.
Leave a Comment
When was the last time you sat down with your family and really talked? You know those precious times when you find out what is going on behind the scenes.I just did this with my daughter Jessica last night.  We went out to dinner at one of our family favorites, an old diner called Coachman's.  I asked her what she wanted to do most for the upcoming Holidays. We let our minds wander with ideas and ended up talking about many things. By the time we left I felt so close to her again.  And I knew I needed to write about this.
One of the most precious things we can do at the Holiday Season is spend meaningful time together. To keep this simple, just sit down as a family and ask each person to share what is the one thing they want most to do? Then put these important choices first on your calendar and feel the relief of letting go of all the other stuff we tell ourselves we should be doing. You have chosen what matters most.
You can make this time together fun by –
playing music
making treats
coming up with a theme
going somewhere special [Read More]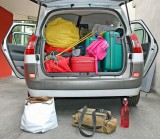 Leave a Comment
What are we supposed to do when "traveling with less" just isn't in the cards?
Last week I was preparing for a road trip back home to Salt Lake for two weeks, including a 4-day camping excursion. As I Mind Mapped packing the car for 3 people & one sweet little rat, the list began to get pretty long.
Myself – suitcase, camping bag, mobile office
My man – suitcase, camping bag, mobile office
Son – suitcase, camping bag
Family Pet "Remy" – food, bedding, treats, cage
Travel cooler – lunch, snacks, water
Camping gear – tent, sleeping bags, sleeping pads, cooler, chairs, large bin full of smaller items
Needless to say I knew that the car was going to be FULL, but there was not much I could do about that. So I used the Clear & SIMPLE Systems SEE IT. MAP IT. DO IT. and S.T.A.C.K.S.© to ensure organization and peace throughout the process. Many times in life this is reality, which is why our systems are not just designed to clear excess, unsupportive stuff, but also to "MAP" and "Simplify."