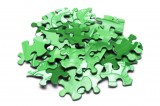 Leave a Comment
You've got all the pieces, now let's put the puzzle together!
Are you starting to feel like you're getting this R.A.F.T© thing?! We are going to walk through the process in its entirety again to help with that. As I mentioned in "Contain the Piles," the very first thing you do is gather all of your incoming paper each day and put it in a vertical holding container.
From there, schedule some time in your week that you can R.A.F.T© through it…
R = Read. All items that are leisurely reading go into one container…or two containers, but they are specifically for Reading.
Leave a Comment
Get it outta your life!
The final step of R.A.F.T.© is TOSS. It is a simple step, but offers a noticeable difference in your paper load. Once a week, as you process papers from your incoming container, simply toss papers into a recycle container or send through a shredder. Pay attention to what happens as you go through this process.
Common results are…
Feeling accomplished clearing out all of that weight.
You and your space feeling lighter.
It sets a standard in your space that for all the incoming there has to be outgoing as well.
Send it off before it takes up residence!