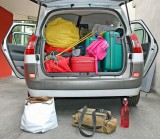 Leave a Comment
What are we supposed to do when "traveling with less" just isn't in the cards?
Last week I was preparing for a road trip back home to Salt Lake for two weeks, including a 4-day camping excursion. As I Mind Mapped packing the car for 3 people & one sweet little rat, the list began to get pretty long.
Myself – suitcase, camping bag, mobile office
My man – suitcase, camping bag, mobile office
Son – suitcase, camping bag
Family Pet "Remy" – food, bedding, treats, cage
Travel cooler – lunch, snacks, water
Camping gear – tent, sleeping bags, sleeping pads, cooler, chairs, large bin full of smaller items
Needless to say I knew that the car was going to be FULL, but there was not much I could do about that. So I used the Clear & SIMPLE Systems SEE IT. MAP IT. DO IT. and S.T.A.C.K.S.© to ensure organization and peace throughout the process. Many times in life this is reality, which is why our systems are not just designed to clear excess, unsupportive stuff, but also to "MAP" and "Simplify."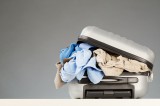 Leave a Comment
Are you like so many that seem to almost always end up with too much stuff when traveling?
Being the organized people that we are, one would think that Marla and I have this all figured out, right?! Ha! But thank you for thinking so highly of us! Our trip to London earlier this year revealed that we still need some help in the travel department.
Our biggest mistake was that we took TOO much stuff!! As we packed to come home, we kept looking at each other in despair, occasionally commenting things like, "There's GOT to be a better way" and "WHY did I bring so much?!"
At one point Marla wearily smiled at me and said, "Kate, I recently saw a video about packing smartly. Why don't you see if you can find one that will support us with all of this?"
Well I looked and of course I found a lot that are awesome! My discoveries included [Read More]